I first saw this type of game at my son's drop-in playschool and he just loved it!! So when we were going camping, I knew that this would be the perfect game to take along! I really have no idea what the game is, but thought I'd make up my own version.

It is really quite simple: he rolls a die and matches the number to the chart and puts the die in a box beside the corresponding number. He is getting good at recognizing and counting the dots on the dice.
We also make patterns, build things, and group like-numbers or colors with the blocks. So multi-functional! And the best part is, my son loves it!
Here is Lee in the tent playing the game with me:
How to make your own busy bag:
To start, I found a bag of plain colored foam cubes at the dollar store. I took three of each color and marked them, using a thick Sharpie, with numbers 1 through 6; I then took another three of each color and marked them with dots 1 through 6.
There are so many busy bags floating around the internet these days! And they are so fun to put together. I made a travel bag for the kids when we did a small road trip this summer and they loved it! (More on that in another post)
Do/Did you have busy bags for your kids? If so, what do/did you have in them?
Linked up with: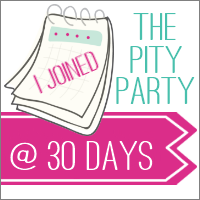 The Scrapbooking Housewife

is an interactive resource providing ideas and inspiration for everyday life with kids; including papercrafting, organizing, free printables, tutorials, kids activities and parties, to name a few
.
Be sure to sign up to receive blog updates via

RSS feed or sign up via email

to get my blog posts directly sent to your email! The Scrapbooking Housewife is also on Facebook, so be sure to "Subscribe" to our

page

!